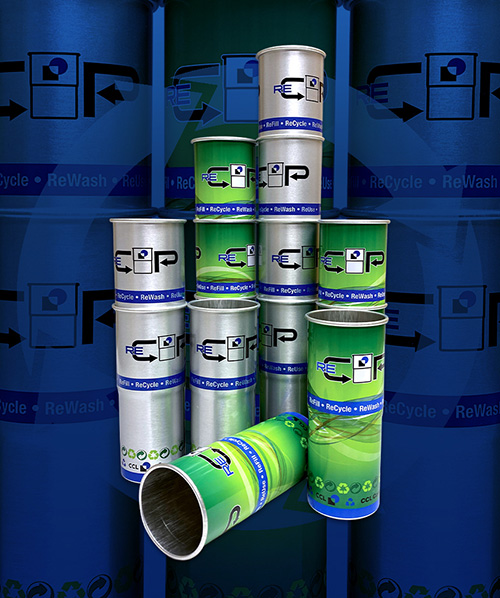 Recyclable and Reusable: CCL Container's New Aluminum Beverage Cup Appeals to Both Brands and Consumers.
(Hermitage, PA – March 2021) CCL Container, North America's leading manufacturer of recyclable aluminum packaging, is expanding its eco-friendly product line to include a sustainable aluminum beverage cup. Dubbed "ReCup" for its "recyclable, refillable and reusable" properties, the cup is manufactured entirely from virgin aluminum, giving it valuable recycling potential.
"We are extremely excited to introduce the ReCup," states Kimberly Kizer, Vice President of Sales for CCL Container. "As we near the end of the pandemic, we are seeing a returning focus on sustainability best practices, among both consumer brands and their retail partners. Package options that reduce landfill waste or eliminate one-time, throw-away packaging, are returning to the spotlight. Go to any gym, and you'll see that most patrons have traded plastic throw-away bottles for refillable, reusable containers."
The ReCup resonates with consumer brands and retailers that are intent on offering durable yet fully sustainable products and packaging solutions to customers. Produced by an impact extrusion process, the ReCup is a one-piece, seamless aluminum construction featuring a rim at the top (to which a variety of lid styles can be secured) and a mid-point contour that enhances grip-ability. The cups measure 59 mm in diameter by 155 mm in height and holds approximately 14 fluid ounces and can provide cups of all sizes.
Rustproof and water-resistant, the cups are ideal for consumers looking for an on-the-go sustainable beverage container for commuting, camping, sporting events, workouts, and travel. ReCups are also lightweight and stackable, saving space and reducing shipping costs for brands, while enabling easy portability for consumers, such as families, who may want to stack and travel with multiple containers.
CCL Container brings a broad array of decorating options to the ReCup container, enabling marketers to customize the package for various initiatives, including special marketing campaigns, promotions, or other brand-enhancing opportunities. Advanced lithography and decorating capabilities include top-to-bottom full wraparound graphics in up to eight colors, with process colors, metallics, neon, specialty surface treatments, textures and embossing.
"Similar to the consumer buying shift in which reusable aluminum drinking straws are replacing plastic, today's consumers are seeking recyclable alternatives to plastic and other disposable cups that can't be reused," notes Kizer. "The ReCup creates an opportunity for brands to enhance their image with high-quality, visually appealing containers that also demonstrate their commitment to sustainability, while giving consumers the eco-friendly products that they increasingly want."
---