The Sandy Bottom® Cocktail Drink "Keeps Summer Alive" in Aluminum Bottles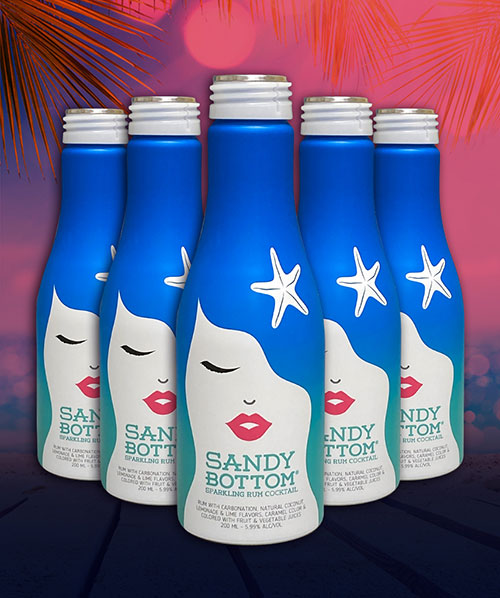 The inspiration for Sandy Bottom® Sparkling Rum Cocktails may be found along the Chesapeake Bay on a warm summer afternoon. Maryland-based entrepreneur and founder, Sandy Mezza, enjoyed serving a particular fizzy cocktail to friends that featured a coconut rum flavor. Her signature drink became so popular that she was encouraged to offer it to a broader audience. Sandy Bottom was born.
As the product grew in popularity, Sandy elected to reintroduce the brand in an aluminum beverage bottle manufactured by CCL Container. The bottle features a lug sleeve and re-closeable red cap, stands 155mm high and is 53mm in diameter, holding approximately 6.7 ounces, perfect for a single serve.
Sandy markets the product as an ideal alternative to beer and wine for boating, camping and other outdoor activities and celebrations. The rust-proof aluminum package is both lightweight and rugged, perfect for outdoor enjoyment. A 100% recyclable container, Sandy is also very proud of the fact that the bottle, ingredients, and components are also 100% made in the U.S.A., also subtly indicated by package graphics that use a clever-yet-simple negative space design in red, white, and blue.
To learn more about CCL Container's recyclable aluminum beverage bottle manufacturing capabilities, visit: https://cclcontainer.com/aluminum-packaging/aluminum-beverage-bottles/
---