Silvadore Wine Essentials Introduces a New Twist on Wine Preservation in Aerosols by CCL Container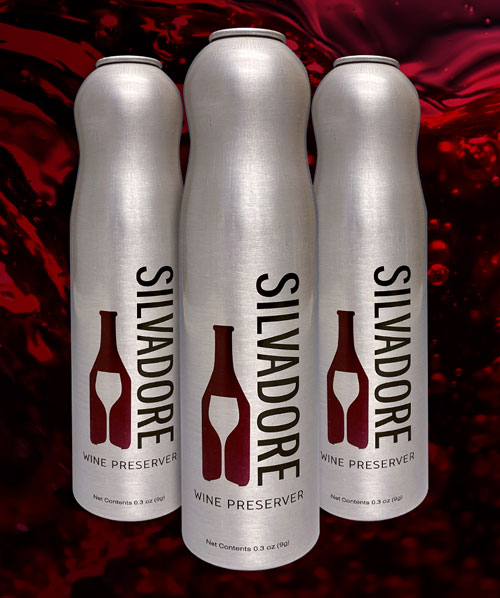 Wine enthusiasts can save time, save money, and pour the wines they want when they want, without the worry of wasted product thanks to Silvadore Wine Essentials. Silvadore Wine Preserver is a unique aerosol-based wine preserver that simplifies the process of keeping wine fresh after opening. The product uses Argon gas as the preservation agent. By dispensing two sprays from the press-top actuator into the open wine bottle, the Argon gas sits on top of the remaining wine and functions as a barrier from oxygen. Argon gas is completely safe, and the remaining wine can be later consumed with original freshness for up to two weeks upon initial uncorking. The product represents a more convenient and cost-effective alternative to many of the wine preservation systems that often involve costly, bulky components.
The product is marketed in a contoured brushed aluminum aerosol produced by CCL Container, and holds .3 oz of Argon gas, enough for approximately 50 uses. The contoured neck allows for improved handling of the product, and the transportable aluminum construction makes this a great product for wine lovers on the go or in the great outdoors.
To learn more about CCL Container's innovative aluminum beverage bottle manufacturing capabilities, visit: https://cclcontainer.com/aluminum-packaging/aerosol-cans/
---